How It Works

List Office Space

At griddig, our goal is to bring transparency and clarity to all office leasing transactions by providing a framework of Tools to help you post a detailed office space listing, compare prospective tenants and negotiate deals effectively.
Complete a Space Listing

At griddig, we believe that making office markets transparent and more efficient is paramount. That's why every Listing and Building on griddig is accessible by everyone — whether they have an account or not.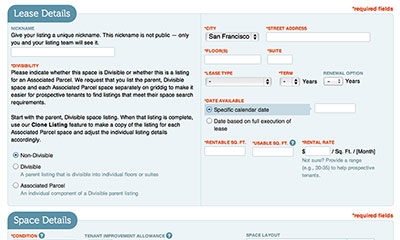 As a listor, you control every aspect of your Listing content. By asking for and requiring many details up front, we want to help you and your prospective tenants avoid all the downtime, phone-tag, unanswered emails and frustration trying to get basic questions answered.
We also make it easy to share photos, videos, CAD files, Path of Travel drawings and FF&E inventory files.
Start your Office Space listing now.
Manage Your Team

The foundation of a successful office leasing project is a reliable Team of experts who will work with you every step of the way, from early planning and strategy through Tenant comparison and Letter of Intent negotiation.

Need help finding a broker, architect or other Team member? Check out our Find Team Members tool for reviews and insights on griddig members who have successfully helped others find and list space.
Start your griddig project by selecting your central Team members — broker, architect, general contractor, real estate lawyer, and more — today.
Compare Your Top Prospective Tenants**

Identifying and understanding your total projected transaction costs for each prospective tenant you're considering is essential for successful, transparent lease negotiations.
Our Compare tool was designed to help you and your Team calculate those costs and compare them across your top prospective tenants, for any given space, at a glance.
Each worksheet is prepopulated with common cost considerations, which you may further tailor to suit your needs. We then calculate and summarize the present-value costs per rentable and usable square foot, the total present-value of each projected transaction, along with the arithmetic average and total rent so you can quickly compare these values for your top prospective tenants side-by-side.
Draft and Execute an LOI**

The Letter of Intent (LOI) is where your office space deal is made.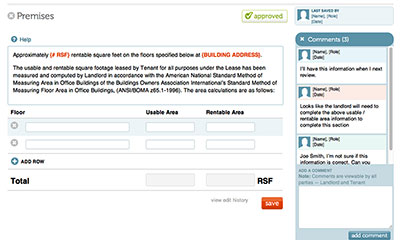 Based on our over 30 years of experience in the industry, we've developed an LOI template that covers each business issue in detail to ensure that all decision-makers, influencers and Team members have thoroughly addressed and documented all aspects of your proposed transaction. We also provide you with complete flexibility to edit our template to suit your individual needs and address any subtleties of your lease.
Our LOI tool is collaborative. All parties can edit and leave comments as you all work together to complete the document.
Our goal: to bring transparency to the negotiation process for all involved, avoid surprises and broken promises, and lift the quality of leasing transactions throughout the industry.
Sign up today and get free access to our premium tools, including our space comparison tool and our Letter of Intent generator. Get started!
**This premium feature is only available to paid griddig account holders.