The Mining Exchange
350 Bush St, San Francisco, 94104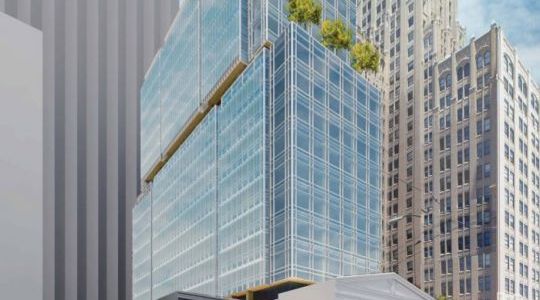 350 Bush Street is a 19-story office tower which incorporates the historic landmark San Francisco Mining Exchange Building as its principal entry. The historic existing building, originally constructed as the Mining Exchange in 1923, was later used briefly as the Stock Exchange and subsequently as the Curb Exchange through the 1930s. The historic exchange hall will be used as a grand lobby for a modern office building. The building will provide 360,000 sf of office space with a dramatic galleria at the street level as well as a mid-block pedestrian link between Bush and Pine Streets. By utilizing rusticated stone cladding with glass curtain wall accents and ornamental balconies, Exchange Place demonstrates a balance between antique and modern, expressing a unique vocabulary of forms and shapes. Seeking LEED Platinum certification, the building utilizes various environmentally advanced technologies. The site is distinctly complex, involving various neighborhood constraints. As such, the approval process resulted in the incorporation of provisions for outdoor space and the conveyance of rooftop space on a neighboring parcel for expansion of St. Marys Square.
Building Ownership
Lincoln Property Company
Building Representatives
Rodger Dean
Lincoln Property Company
rdean@lpc.com
415.981.7878
bill.cumbelich@cbre.com

bill.cumbelich@cbre.com

Patrick Devinger
CBRE
patrick.devinger@cbre.com
415.901.5181
Building Class
A
Stories
19
Year Built / Renovated
N/A
Total Rentable Building Area
360,000 SF
Total Available Office Space
191,500 SF
% Leased
46.81%
Operating Expenses & Taxes
Exp: $0.00 / SF / YR
Tax: $0.00 / SF / YR
Exp: $0.00 / SF / YR
Tax: $0.00 / SF / YR
Exp: $0.00 / SF / YR
Tax: $0.00 / SF / YR

Property Management
On-Site Management
24/7 Availability
Red Cross Certified
Parking & Transportation
Indoor / Covered
Client / Customer Hourly Parking
Self-Parking
Valet
Plug-in Stations for Electrics
Bicycle Parking
Bus Lines
Closest Metro / Subway / Train Station
Shuttle Service
Building Technology
TV: Comcast
Pre-Installed TelCo for Building
Riser Management Company
Wiring in Premises
Underfloor Duct System
Retail & Special Services
Banking
Convenience Store
Dry Cleaner
Food Court
Restaurant(s)
Concierge
Conference Center
Day Care
Fitness Center
Showers / Lockers
Storage Facilities
Security
Security Type: 24/7 Roving Guard
Floor Lock-Off
Keycard Access
Energy Ratings
LEED Certified
Energy Star Rating
Heating, Ventilation & Air Conditioning
HVAC:
After Hours Rates:
AC $100.00 / hr; Fan $50.00 / hr
Fans Circulate Outside Air
Operable Windows
Life Safety Throughout Building
Fire Sprinklers
Voice Communication
Fire-Rated Common Areas
Seismic Bracing
Fire Stairs
Strobe Lighting
Centrally-Controlled Earthquake / Disaster Preparedness
Asbestos-Free
Misc.
Enterprise Zone
Bio-Tech / Lab Space / Wet Lab
Foreign Trade Zone
Balconies
Central Mail Room
Loading Dock
Pet-Friendly
Raised Floor(s)
Separate Freight Elevator
Signage (Main Lobby)
Skylights
Skyway
Underground Tunnel